Valerie began studying Chinese internal martial arts in 1995 with New York Internal Arts, training in Xing Yi Quan, Ba Gua Zhang and Qi Gong.
Since 2001 she has traveled to China repeatedly to train with masters Song Zhi Yong (Shanxi Xing Yi), Gao Ji Wu (Beijing Gao Family Ba Gua Zhang), Zhang Hua Sen (Liang Zhen Pu Ba Gua Zhang) and Zhao Da Yuan (Liang Zhen Pu Ba Gua Zhang, Qin Na).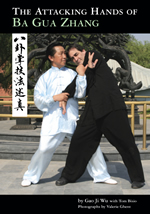 Valerie was invited to photograph Master Gao in Beijing for the acclaimed 2007 book, The Essentials of Ba Gua Zhang and took hundreds more photos for The Attacking Hands of Ba Gua Zhang (2010). The latter features Master Gao as well as his father, Master Gao Zi Ying.
Today, Valerie is a certified instructor of Ba Gua, Xing Yi and Qi Gong with New York Internal Arts, and teaches both in New York and in France. She is also editor and contributor to the Internal Arts International website.