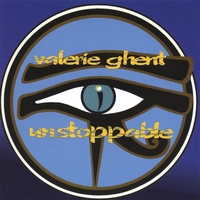 Infectious, funk-based grooves & gorgeous pop ballads. Val's striking voice and crystal clear record production fill these eleven songs of love and truth, survival and justice. A musical oasis; a must-have. --1996
Buy Unstoppable at
Related Links
Unstoppable
Unstoppable Credits
Produced by James Biondolillo & Valerie Ghent
All songs written, arranged and performed by Valerie Ghent
© Valerie Ghent/West Street Records 1997
Published Valerie Ghent/Cavos Music (ASCAP)
About Unstoppable
This album was created almost entirely at home in my midi studio. I recorded most of the eleven songs myself, and bartered engineering for studio time to record vocals and guitar/cello/bass/accordion/sax overdubs.
Additional musicians on Unstoppable include dear friends Tony "Babyshoes" Bridges (bass), Knox Chandler (guitar), Kit Hain, Deborah Berg, Sherryl Marshall and Elise Morris (background vocals) and my mother, Nathalie Gudkov Ghent, speaking in Russian! We found Yuri Zak, the accordionist, playing in the NYC subways & brought him to the studio. Once tracking was finished, we mixed the CD with renowned engineers Michael Brauer, Michael Barbiero, Tsuyoshi Inoue, Alex Haas, Harvey Goldberg and Carl Beatty and mastered with the incredible Greg Calbi.
It took several years to finish Unstoppable because at that time I was recording the Ashford & Simpson w/ Maya Angelou album, Been Found, during the days – and coming home to work on Unstoppable at night! It was on this CD that I taught myself Photoshop, Quark and the basics of graphic design to create the CD artwork.
Musicians on Unstoppable:
Valerie Ghent – vocals, keyboards, drum programming, sound design, backing vocals, arrangements
Tony Bridges – bass
Knox Chandler – guitar, cello
Yuri Zak – accordion (#3)
Natalie Ghent – russian voice (#3)
Nigel Hitchcock – saxophone (#7, #9)
Benjamin Orick – drums (#6, #10)
Kit Hain, Napua Davoy, Deborah Berg, Sherryl Marshall, Elise Morris – backing vocals
Recording:
Basic tracks recorded by Valerie Ghent at Jam On It
Additional recording at Stereo Society (NYC), Skyline Studios (NYC), Longview Farms (N. Brookfield, MA), Ambient Recording (Stamford, CT), Mystic Studios (Staten Island)
Engineers: Harvey Goldberg, Hiro Ishihara, Valerie Ghent, Carl Beatty, Fernando Kral
Synclavier/Direct-to-Disk programming: Valerie Ghent
Assistant Engineers: Tom Bender, Brenda Ferry, Fran Flannery, Mark Glass, Miriam Gonzales, Niko Tenektzis, Bruck Dawit
Mixing:
Unstoppable, Truth, Survive and Oasis mixed by Tsuyoshi Inoue at Mystic Studios, NY.
Silences mixed by Harvey Goldberg at Ambient Studios, CT.
No One Else mixed by Michael Brauer at Sony Studios, NYC.
Right Here Beside You & Justice mixed by Carl Beatty at Mystic Studios, NY.
Keep Me Strong mixed by Jeff Dovner at Sony Studios, NYC.
Place In This World mixed by Michael Barbiero at Electric Ladyland Studios, NYC.
Whisper mixed by Alex Haas at Mystic Studios, NY.
Mastering:
Mastered by Greg Calbi at Masterdisk.