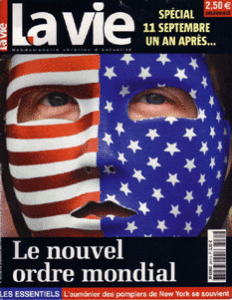 La Vie cover Sept. 2002
France/Suisse/Benelux/Canada
du 5 au 11 September 2002
par Anne Guion
Valerie Ghent, une chanteuse compositrice…
(excerptes)….Cornelia Street Café, un restaurant branché de Greenwich Village sur Cornelia Street, une toute petite rue aux allures italiennes. Nous avons rendez-vous avec Valerie Ghent, une chanteuse compositrice, qui a réuni en mars dernier des pompiers, des policiers et des volontaires, tour poets ou auteurs compositeurs, pour un concert hommage. Certains d'entre eux sont là aussi et nous racontent leur vie depuis. Quand, tout à coup, deux policemen prient les clients d'evacuer le lieu. Un colis suspect a été repéré. Tout le monde se retrouve sur le trottoir…Les assiettes à peine entamêes restent sur les tables. Peu à peu, la tension monte. Mélange de curiosité et d'anxiété. Un petit groupe se forme. Il y a l'Anglais du bout de la rue, les Californiens venus chanter dans la cave du restaurant, le groupe de copains réunis pour le concert. L'a parle de World Trade Center, de 11 septembre et d'Armaggedon devant des yeux médusés de deux Français blasés. Voilà, peut-être, ce qui q change chez les New-Yorkais: ils sont découvertes vulnérables. Fragiles, comme les tournesoles de Xavier, plantés là et là, en direction du Ground Zero. Pourvu que les gens d'ici n'oublient pas de leur offrir un peu d'eau.
Norma Hardy, 42 ans, sergent de la Port Authority.
"Le plus dur, c'est pour les nouveaux"
Pas de place pour se garer. Norma a laissé sa voiture au milieu de la rue de Greenwich Village. Sur la portiere, il est inscrit: respect, courtesie et professionalisme. C'est le slogan de la police newyorkaise. Elle arrive, à grands pas. Dégaine de mec et flingue à la ceinture. On la connait, Norma, on l'a vue dans des films. On connait ses doutes, ses
histories de commissariat. On a vu l'a dans New York Police Blues. Et la voilà devant vous, qui avale son carpaccio, en jetant nerveusement des coups d'oeil vers sa voiture. Norma fait parti de la Port Authority, une brigande de police chargée de controller les rives de New York…et le World Trade Center. Le matin du 11, "that fucking day", dit-elle en balançant la tête, elle etait devant sa télé, en conge. Elle mettra trios heures à rejoinder le site…Elle a creusé dans les amas de debris avec un chien, 24 heures Durant. Elle est restée trois semaines sur les lieux avec l'espoir de retrouver un survivant. "On a pense toujours pouvoir sauver quelqu'un." 37 hommes de la Port Authority y sont restés, tués dans l'effondrement des tours. 37 enterrements. Un par jour, pendant deux mois. Voir les familles, rester droite dans son uniforme. Retenir ses larmes. 37 fois. Un jour ou quelques rayons de soleil ont traverse le nuage de poussiére, elle a ecrit The Men*, un poéme en l'honneur des policiers morts, mais aussi des nouvelles recrues. Les jeunes policiers qui les ont rejoints après, "qui ont commence leur carriére dans les funéralles". Elle écrit: "J'ai vu des jeunes homes pluerer/si forts/si grands, et déja cases". . On la connait, Norma, on l'a vue dans des films. On la connait. Et pourtant…Elle est tellement mieux, en vrai.*
Le poéme The Men, mis en chanson par Valerie Ghent, figure sur le CD We'll Carry On (Nous continuerons), vendu sur les sites www.weststreetrecords.com ou www.cdbaby.com. Tous les benefices sont reverses à plusiers fonds d'entraide pour les familles des victimes.

© 2002 La Vie