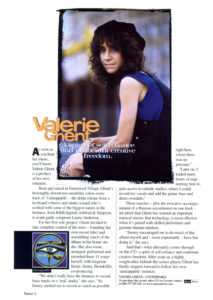 As soon as you hear her music, you'll know Valerie Ghent is a product of her environment.
Born and raised in Greenwich Village, Ghent's thoroughly downtown sensibility colors every track of 'Unstoppable' – the debut release from a keyboard virtuoso and studio wizard who's worked with some of the biggest names in the business – from R&B legends Ashford & Simpson to avant-garde composer Laurie Anderson.
For her first solo project, Ghent decided to take complete control of the reins – founding her own record label and assembling much of the album in her home studio. She also wrote, arranged, performed and recorded these 11 songs herself, with longtime friend, Jimmy Biondolillo, co-producing.
"We didn't really have the finances to record basic tracks in a 'real' studio," she says. "So Jimmy pushed me to record as much as possible right here, where there was no pressure. Later on I traded many hours of engineering time to gain access to outside studios, where I could record my vocals and add the guitar, bass and drum overdubs."
Those touches – plys the evocative accompaniment of a Russian accordionist on one track – are proof that Ghent has learned an important musical truism: that technology is most effective when it's paired with skilled performers and genuine human emotion.
"Jimmy encouraged my to do much of this album myself and – most importantly – have fun doing it," she says.
And that's what ultimately comes through on this CD: a spirit of self-reliance and exuberant creative freedom. After years as a highly sought-after, behind-the-scenes player, Ghent has finally stepped forward to follow her own 'unstoppable' instincts.
Music Direct was a wonderful music subscription series, one quite ahead of its time.  Each month Music Direct compliled a CD of 'must listen' to releases, both of new and emerging artists as well as established artists.
Volume 7 featured "New Releases"  Clive Gregson, Rich Wyman, Jason Falkner, Valerie Ghent, David Massengill, Steve Schuch, William Topley, The Power of Peace; "Hit Makers" Simply Red, Hughie Lewis & the News; and "The Return Of" David Sanborne and Natalie Cole.