METROPOLITAN DESK | March 13, 2002, Thursday

By KIRK JOHNSON (NYT)
Late Edition – Final, Section B, Page 1, Column 2
Is the world ready for a bouncy singalong ballad about Sept. 11? David Heitler-Klevans thinks so, and he appeared to have most of the people in a small, packed Greenwich Village folk audience on Monday night singing in agreement.
"All those people in New York shouldn't have died, they shouldn't have died," sang Mr. Heitler-Klevans, a singer-songwriter from Pennsylvania. "Try some harmony!"
Kathleen Pemble, on the other hand, offered a quiet and mournful tune that she wrote last October as she watched her husband, a firefighter with Engine Company 73 in the Bronx, struggle with the emotional devastation of searching for the remains of his friends at ground zero.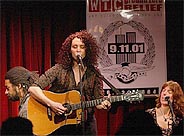 "There, every day you are standing, every day you are falling," Ms. Pemble sang.
The folk music concert that was presented on Monday in the basement stage at the Cornelia Street Cafe was full of jangling juxtapositions like that. Images of fire and death were followed by rousing anthems of patriotism, followed by anguished, minimalist statements about the search for any meaning at all in a world altered by terrorism.
The one rule of the evening, which was organized by a Manhattan singer-songwriter, Valerie Ghent, to raise money for a ground zero relief fund, was that the pieces had to be about Sept. 11. Privately, Ms. Ghent said, she created a second threshold criterion—that the evening would be not a "therapy session," but rather an attempt to find real artistic expression.
What became clear when audiotapes and poems starting arriving from as far away as Arkansas and California, however, was that people had begun writing in ways that went far beyond how they had felt when they saw the twin towers fall, she said. The songs were about guilt and responsibility, collateral damage in the lives of survivors, and over and over again the sense that the losses were more complicated than anybody thought. Many were in fact not about the terrorist attacks at all, but about the world since, the odd new spaces in life, the altered textures and the difficult effort of moving on.
"There is no happy ending," Ms. Pemble said in introducing the song about her husband, called "Engine 73." "There is no redemption."
Expressing, in three or four minutes of words and music, the tangled emotions of the world after Sept. 11 is clearly no easy task. Although some of the 20-odd performers and writers said the melodies and turns of phrase had come all at once, in a blazing instant in the hours and days after the attacks, others said the finished product had to be almost tortured out of them. Norma Hardy, a Port Authority police officer, said she struggled for months to get the words right for her poem "The Men." (But then she did not want to read it herself; she left that to a fellow officer, Mariella Coleman.)
Two singers performed songs written before Sept. 11 that had become more relevant, they believed, since the terrorist attacks. Both said they had become almost blocked from writing anything about the attack on the World Trade Center, or on what it had done to the city and to their lives.
"It's such a complicated and difficult personal subject," said Elisa Peimer, who performed a song called "Hope" that she wrote two years ago with a friend, Shelly Riff. "I don't know what I would say."
Some writers focused their attention on emotions, others on the tiny details of time stopped short: an overturned hot dog cart covered with ash, shattered eggs from the restaurants in the World Trade Center, a spider that had until the day of the attack been living quietly, "unnoticed inside the leaves of a camellia plant on the windowsill." Others searched for clues of meaning beyond a brutal act of murder.
"Was the yawning, lazy blue of the sky complicit?" asked Frank Tedesso in his poem "When Mohammed Came to the Mountain," which he read accompanied by a friend on the cello.
Did starfish emerge from the ruptured socket of the sea
And swim upriver
To bear witness to the remains of names,
Naked and divided from bodies,
Piling up on the air?
The morning decomposed quickly,
Devoured by some terrible awakening
And by its own uselessness.
All this hysterical information
Swept over
Indecent,
Gawking
And wounded logic.
Some members of the audience, who included many police officers and firefighters, said they had been drawn to the concert specifically because they were looking for new perspectives on events that have been hashed over again and again in the news media and by political leaders but that still, six months later, remain incomprehensible. Attending funerals and ceremonies beyond counting, often with the same traditional songs played over and over, has become too much to bear, said Lt. Preston Fucci of the Port Authority police. "I'm Amazing Graced out," he said.
Greenwich Village is, of course, no longer the world capital for scruffy folkies the way it was a generation or two ago, when its walkup apartments were affordable to someone on a coffeehouse poet's budget. Most of the performers on Monday live in places like Brooklyn, Queens, Staten Island and Westchester County, and most have day jobs.
But it was also clear that the old- style protest and antiestablishment songs that were the lifeblood of folk from the days of Woody Guthrie through Bob Dylan and beyond look just as dated in the world after Sept. 11 as a cold-water railroad flat.
Larry May, a 34-year-old substitute teacher from Queens, performed, for example, a song called "All American," written with a friend, Lance Jordan, about the many virtues of a nation united, strong, and well led.
"Give our leaders strength to make the right decisions," Mr. May sang. "We can't ever fail armed with justice and precision."
One of the few performers who was invited back up onto the stage for an encore was a New York City fireman, Hughie Lynch, whose song "Tomorrow," which he wrote nearly a decade ago, has apparently become something of a Fire Department anthem. He has now performed it at more than 10 funerals, he said.
The song, written for a friend who died in a fire, is meant to express what it feels like at the front lines of a fire, and why people become firefighters.
"I turn the corner, fire's out of control / There's people dying—why I just don't know," Mr. Lynch sang. "So I reach out my hand to do all that I can so that one might live tomorrow."
Ms. Ghent said the first time she heard the song she knew she wanted Mr. Lynch in the program. "I suddenly understood what it's like at a fire," she said.
Mr. Lynch said it is people's views and feelings that have changed—the song remains the same. "Before, it was just me singing about the Fire Department," he said.

Copyright © 2002 The New York Times Company