WHAT A NIGHT! Our CD release show for "Day to Day Dream" was incredible!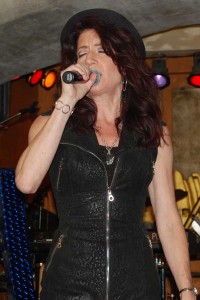 After a warm introduction by Sugar Bar host supreme Damara Lynn Greene (thank you Damara!), I tried something new and opened the show with an acapella welcome to the audience, a little something that I made up that aftenoon.
From Wheels on a Train on – everyone was up and dancing!
I just have to write about the great musicians who shared the stage with me, because they were on fire:
Drummer extraordinaire Bernard "Pocket" Davis kept the groove steady, outdoing himself on Run Run Run, where he played enough drums for 2 musicians! I found some new dance steps, that's for sure! Legendary bassist Tinker Barfield – solid and soulful all night long & looking fresh in his new hat – got his groove on in our closing number, Spread a Little Love with a one-note solo that held the room right in the palm of his hand (or tips of his fingers), while Ann Klein, playing some mean guitar, was funkin it up from start to finish.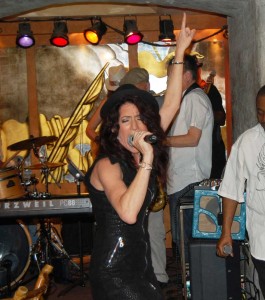 Background vocals on all the songs – and especially Show My Love and Love Enough for a Lifetime – were beautifully sung by dear friends Alfa Anderson and Keith Fluitt. NY's blues harp maestro, Dennis Moriarty, joined us on harmonica – playing an outstanding solo on Day to Day Dream. Booker King made a cameo appearance on upright electric bass on He's My Man, adding just the right vibe and presence to that song.  Steven Bernstein on trumpet and Kenny Brooks on saxophone rounded out the sound, adding pizazz to Wheels on a Train, Buddy, Spread A Little Love and Steven's muted trumpet on He's My Man.
One highlight for me was playing our new reggae version of Phased  – can't wait to record it!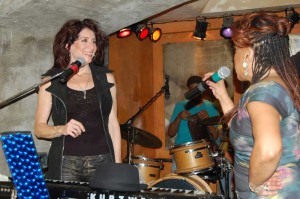 At the end of the show, Valerie Simpson took the stage and declared it a veritable love fest for everyone present – it sure was!  – and then asked us to play yet another song as an encore. How could we refuse? So we closed the night with a reprise of Wheels that had EVERYONE dancing in the aisles.
What a night!
Tremendous thanks to everyone who came out to support – and sing, and dance! – it meant so much to have so many friends and family there to celebrate. What a truly magical way for Day to Day Dream to officially enter the world. Special thanks to Jimmy Simpson for making us sound so good, and Ray Simpson for being in the house – the whole Simpson family! And I know Nick was there too, we could all feel his presence. I feel so blessed – and truly, couldn't do this without all YOU. Thank you, from the bottom of my heart!
Can't wait for the next one – get your dancin shoes ready!!
photos by Erin Moriarty.