Today is my cousin Jacques Demêtre's 92nd birthday! Let's celebrate with his new CD, a collection of 48 songs called "Hard Time Blues: 1927-1960". Happy Birthday Jacques! Bon anniversaire! Je t'aime!
Jacques Demêtre is a blues historian in Paris and loves the blues – am thrilled to share his newest 2-CD collection, recently released in France on the Fremeaux label. For this release, Jacques selected the songs (some from his own collection of vintage 78 records) & wrote extensive liner notes (both in French and English) with Jean Buzelin.
Hard Time Blues: 1927-1960
Political and Social Blues Against Racism
at the Origin of the Civil Rights Movement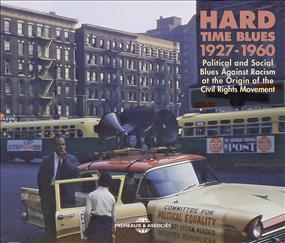 Including forty-eight blues about tough times in pre-civil rights America, this important collection includes songs by Tampa Red, Big Bill Broonzy, Bessie Smith, Sonny Boy Williamson, Big Joe Williams, Lightnin' Hopkins, Peetie Wheatstraw, Brownie McGhee, Memphis Slim, John Lee Hooker
& many more.
A must for your blues collection!
Have a listen, and let us know what you think! I'll relay your comments & feedback to Jacques.  I know he'd love to hear from you. Keepin the blues alive!