The avant-jazz single Man on the Moon by Ornette Coleman, released in 1969 in response to the first moon landing, features my father, Emmanuel Ghent, on 'electronic devices' jamming with Ornette & an all-star band: Ornette Coleman – alto sax; Don Cherry – trumpet; Dewey Redman – tenor sax; Charlie Haden – bass; Ed Blackwell – drums; Emmanuel Ghent – electronic devices.
I was delighted to find this out of print recording on YouTube this week:
My father shares a writing credit w/ Ornette on the tune: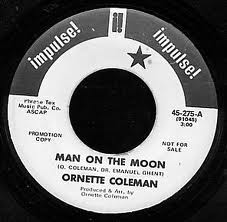 It is curious that the B-side of "Man on the Moon" is named "Growing Up". For me personally, listening to "Man on The Moon" evokes memories of my childhood. When I was a child growing up in SoHo, Ornette lived in our building. In those years, artists (including my parents) were living in, working out of and renovating entire floors of empty factory buildings in SoHo – all before zoning allowed residential use.  In 1970, our building became known for a few years as 'Artist House'. Ornette intended Artist House to serve as a live-work performance space for 'artists of all kinds'. According to jazz.com, residents of Artist House included Anthony Braxton, Leroy Jenkins and Truvenza Coleman, Ornette's sister.
Ornette lived on the third floor and used the ground floor to rehearse and perform. He would come upstairs to my father's electronic music studio from time to time and they would jam. Apparently my father recorded a few of these sessions, because there are a few reel-to-reel tapes in my father's archive with Ornette's name on the spine. Wonder what is on them! Can you imagine? I hope they are still transferable.
A few years after the release of Man on the Moon (on Impulse), my father performed some of the electronics and studies used for this recording at The Kitchen, on January 17, 1972: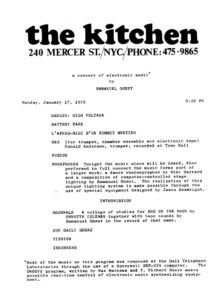 As you can imagine, as a young child I was fascinated by the electronics. Between falling asleep to Ornette's rehearsals and having (albeit limited) access to the tape machines, who could resist? It was in my father's studio, on 2-track and 4-track tape machines, that I began to learn the basics of recording.
Read more about Emmanuel Ghent: Bell Labs, GROOVE & Electronic Music Composition: an interview with Emmanuel Ghent