Happy Holidays! Joyeuses Fêtes! Wishing you peace, joy and love this holiday season. The week before the New Year always feels magical to me, a time to wonder, reflect, rest and gather our strength for new adventures.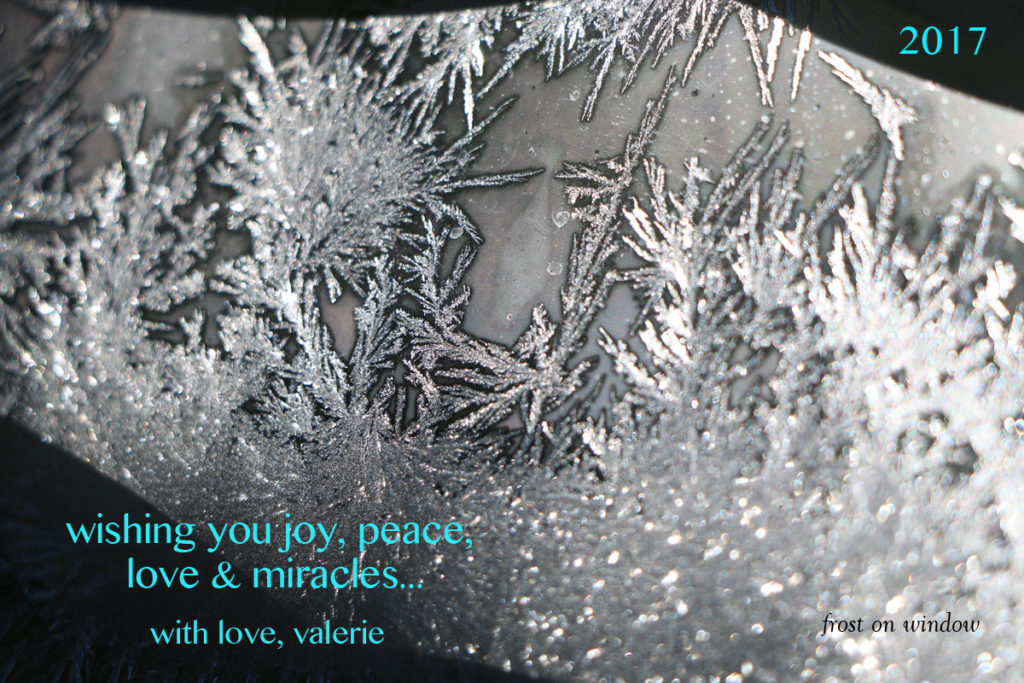 The photo above is of frost on my door, a quick moment in time as the sunlight poured through and before the frost melted. The minute, ever-changing details of the frost, and the play of light and snowflakes held me transfixed…until it all melted away in the sunshine. I hope you enjoy it! For me it became a meditation on change and transformation, beauty and transience, spontaneity and nature, qualities I have been thinking a lot about as we navigate these unpredictable times. Feel free to download by clicking on it & zoom in on those frosty edges for a closer look!
Most of all I want to thank all of you, un grand merci!, for your encouragement and support this year, for the many wonderful events, concerts & projects with which we filled our days and nights: of course our new Velours album (more great news coming about Velours next year, stay tuned!), the fabulous album release shows at Joe's Pub, Marseille, Hyères & Paris, our short tours in France last winter & spring through BLUES' UP; radio interviews in Aix, Paris, Toulon, Champagne, Houston, Buenos Aires & Lebanon; concerts with Valerie Simpson in Baltimore, Atlanta, Jersey City & NYC; concerts with Ebony Jo-Ann and Aziza; our Songwriter's Beat songwriting & record production workshops & first online concert; Tom's four new books (yes four!), one of which features hundreds of photos I took in China, and two with cover photos I took of our teachers; teaching Xing Yi Quan, Qi Gong & Ba Gua Zhang with Tom both in NYC and France; our intensive training trip to China in August with New York Internal Arts; serving my first year at Westbeth as Vice-President of the Westbeth Artists Residents Council, our arts nonprofit Feel the Music! continuing to bring music and inspiration to children with cancer, senior centers and community centers in NYC; plus teaching my first Vocal Master Class in French in Marseille, what an incredible year filled with love!
At the same time, 2016 was a year of tremendous losses. We said goodbye to so many beloved musicians and artists it's impossible to fathom. Musicians who shaped our world, influenced the music we play, inspired us countless times and who many of us worked with: David Bowie, George Martin, Prince, Leonard Cohen, Bernie Worrell, Maurice White, Leon Russell, Sharon Jones, Nana Vasconcelos, Toots Thielmans, Rod Temperton, Keith Emerson, Greg Lake, George Michael & many more… In the electronic music world we lost pioneers including Pierre Boulez, Pauline Oliveros, Don Buchla and closest to me personally, Jean-Claude Risset, who passed away at the end of November in Marseille. And of course this is only a partial list….it seemed like every week we were in mourning again, the saddest year I can remember.
As we look ahead to 2017 and the uncertainties of the future all around the world, many of us are filled with worry and dread. Yet as creative people, as musicians and artists, we are here on this earth to create, to play, to sing, to bring laughter, evoke tears, inspire hope, protest injustice, to raise the roof and shake the rafters! I plan to write, record and perform more than ever, and hope you'll join me on this creative journey. Let's go out there and make beautiful noise!
I wish you a joyous, healthy & prosperous New Year filled with love & music, and a more peaceful world for all. Bonne Année à tous!
with love,
ps: after sending this message to my email list, a beautiful message appeared on twitter. I have to share it here with you:
@ValerieGhent Thank you for fabulous greeting!
Good & bad news are always coming.
#LeonRussell is gone.
#Velours is coming.
I found a heart.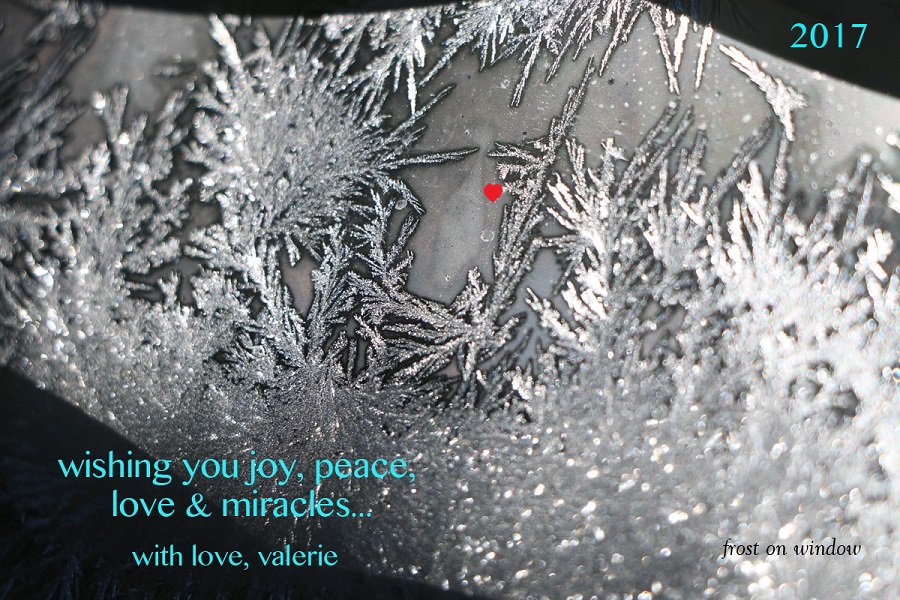 Thank you Yasushi Sann! どうもありがとうございます! 明けましておめでとうございます!