Deeply honored. Humbled. Last fall, France's noted blues/soul/jazz magazine, Soul Bag, asked me for an interview. They were curious to know if I would share a little bit about what it was like to work in the studio with Nina Simone, Nickolas Ashford & Valerie Simpson during the recording of Make It Up As We Go, a song on Valerie Simpson's new CD, Dinosaurs Are Coming Back Again.
At the time of the interview, I was told a few of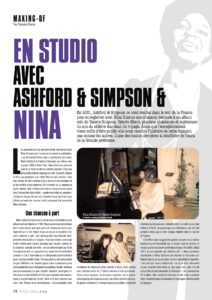 my responses would be part of a larger article about Nina Simone. To my great surprise, Soul Bag printed nearly the entire interview in the current issue (No. 209, Jan/Fev/Mars 2013), including three of my personal photos from the recording session and even gave me a by-line. My first in the French press! Merci bien à tous!
Here for the first time, with the permission of Soul Bag, is the interview in English, as well as the original article in French. To read the original and see the photos, simply click on the pages to the right.
ENJOY!
In the Studio with Ashford & Simpson & Nina
In 2001, Ashford & Simpson went to the South of France to record with Nina Simone a song destined for Valerie Simpson's solo album. Valerie Ghent, pianist, singer and recording engineer for the renowned duo was on the trip. When the recording was finally released, she tells us the story of this song, a song like no other. One of the very last to benefit from the aura of the High Priestess.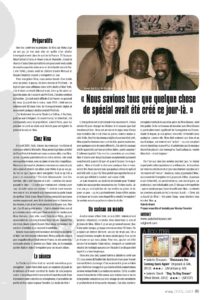 My memories of meeting and working with Nina Simone are filled with unforgettable moments. I first met Nina with Nick Ashford & Valerie Simpson in the mid-1990's in New York City. Nina was a friend of Valerie and Nick, and she would often come to their home when visiting or performing in New York. Often Valerie and Nick would hold a small party in Nina's honor. One of Nina's visits happened to fall on my birthday, and I was invited to the gathering. When I walked in the door, Valerie, Nick and Nina sang 'Happy Birthday' to me – what a wonderful surprise! I was so stunned to see the three of them singing – along with the rest of the room – I almost began to cry. That's how I first met Nina Simone.
An Unusual Song from the Start:
Nick, Valerie and I began to work on a solo album for Valerie Simpson in 1999, recording about fifteen different songs in their home recording studio, eleven of which ended up on the CD. The song Make It Up As We Go was unusual from the start. The haunting mood was present from the very beginning; the instrumentation emerged seemingly of its own intent, almost by happenstance, as if the song itself were following the title – practically 'making it up' as we went along with the recording, calling for unusual sounds like French horn and vibraphone (which Valerie played for the first time).  Each part was recorded on different days with musicians we either knew very well (Ivan Hampen on drums, Bashiri Johnson on percussion) or were recommended to us by Joseph Joubert, arranger and musical director for Ashford & Simpson for many years (John Clark and Peter Gordon on French horn, Ben Brown on acoustic bass). I have recorded hundreds of songs with Valerie and Nick over the years, but we had never recorded a song like this before. It was almost as if the song came from another era.
We often remarked about how Make It Up As We Go was reminiscent of an old jazz song, maybe one you heard a long time ago and then forgot, the kind of song you could hear in a café or smoky jazz club in Paris. I think those references must have reminded Valerie and Nick of Nina, who at the time lived in the South of France
It was Nick who suggested the whispered vocal parts while we were working on Valerie's lead vocal. He wanted the vocal to be mysterious and sexy. At some point in late 2000 or early 2001, I remember that Valerie said, "We were thinking to ask Nina Simone to sing and play on Make It Up As We Go – and just as we were about to call her, out of the blue, she called us! So I asked Nina if she would like to do a duet with me, and Nina said yes. She wants to hear the song." So we sent Nina a CD, and after she heard the song and said she liked it, Nina sent us three songs for a new CD she was working on at the time.
Preparations
Once it was decided that Nina would perform on Make It Up As We Go, I began looking for a studio in the South of France. At the time, Nina lived in Carry-le-Rouet, near Marseille. I was fortunate to know the area fairly well from visiting friends and family in the Var many times. In the summer of 1998 I visited the renowned Studio Miraval, and ever since had hoped to record there one day.
To record Nina, we needed to find a studio with a grand piano, good microphones and ProTools – the digital recording system on which we recorded in our studio in New York. I first contacted Miraval, and although they had a beautiful piano, they did not have ProTools, so I kept looking. At first it was difficult to find a studio with both a grand piano and ProTools – it might seem hard to believe, but 2001 was still relatively early in the years of digital recording and at that time only some studios had ProTools.
I finally found Studio La Colline, in Boulbon, just south of Avignon, which had everything we were looking for. I corresponded with the studio owner, Lionel Parra, about the precise arrangements we would need to record both the piano part and Nina's voice.
Chez Nina
At the end of April, 2001, Nick, Valerie, their manager Tee Alston and myself arrived in Marseille. We stayed in a hotel in the Vieux Port and the next day visited Nina in her home. I remember arriving 'chez Nina' so clearly. She had a beautiful home, with a piano, and magnificent artwork. Nina played several pieces for us on the piano and then played and sang her ideas for Make It Up As We Go. I couldn't help wishing we could have recorded everything Nina played at that moment. She was stunning.
After she played for us, she turned and said – as only Nina could – "Now it's your turn – sing for me. What will you sing for me?" Valerie turned to me and asked if I knew the high harmony to the spiritual, Steal Away. We had recorded it several years before, with Nick singing the lead and Valerie and Nick singing all the background parts, but I had never before sung it with them. Of course I said yes anyway! I love singing with Valerie and Nick, and I couldn't believe I was singing for Nina Simone, in her home, with Valerie and Nick. I will remember those five minutes for the rest of my life. Today, when I listen to Steal Away it still makes me cry, the music brings me right back to that unforgettable moment.
Afterwards, we had a tour of Nina's house, and then Valerie and Nick interviewed Nina briefly, which I recorded. Nina spoke about why she preferred living in France, her ongoing feelings about racism in the United States, and the music she was currently recording for a new album.
The Session
Studio La Colline was a beautiful place to record. The studio owner, Lionel Parra, was also a musician (he played drums) and had built the studio himself, with his own hands. The acoustics were outstanding and Lionel had put together an impressive collection of microphones and world-class outboard gear, as well as a Yamaha grand piano. It was a dream studio!
The recording went very quickly. I had gone in earlier to load in the files and make sure everything was playing back correctly. Nina arrived and once we all settled in, she went to the piano. Valerie sat next to her at first. After levels were set and everything was ready, Nina played through the song perhaps 2-3 times, 4 at the most, with a few alternate piano solos. I loved the moment she went into a Latin rhythm at the end, it was such a surprise! And so perfect. Then we focused on her vocals. Nick and Valerie are outstanding producers, knowing just when to direct and when to let the magic happen. Nina sang the song a few times through, and we were done. We all knew something very special was being created that day. Nina wore a beautiful outfit in golden silk, which reflected the light all around her.
I returned to Studio La Colline the following day to finish all the necessary backups of the audio files. I couldn't help going to the piano and playing a little – it moved me deeply to sit and play just after Nina had recorded on the same piano! I felt her presence in the studio even after she had gone.
A Gift for the World
When we returned to New York, in May, 2001, Valerie and I went back into the studio. Listening to Make It Up As We Go with Nina's voice and piano now added in, the song sounded even more from another era, almost like an old 78 rpm record. We added one last element: a scratchy vinyl LP sound. We tried several samples of old vinyl albums until we found one we liked. To me adding this sound effect was the perfect final touch – evoking viscerally a nostalgic feeling, of listening to a beloved, long-lost record.
Eleven years later, in March of 2012, when Valerie Simpson decided to release the CD, we had to delve deep into the archives to find all the mix files. It was only then that we realized that my rough mix of Make It Up As We Go had ended up as the final mix Valerie and Nick had chosen all those years before. It was yet another unforgettable moment, sitting with Valerie in the studio and realizing my own mix, of this haunting, deeply moving song, one of the last recordings of Nina's voice and piano, had made the record.
It was an honor to work with Nina Simone and especially meaningful to record her in France. I have never met nor worked with anyone like Nina, before or since. Nina was truly a unique soul and spirit, a true, rare 'artist' – her voice becoming even more important now, especially as music becomes more and more homogenized. What a gift to the world Nina was – and still is!
I didn't realize how profoundly the experience of recording Nina influenced me until many years later. I was working on my own new album and one day a song called He's My Man just 'arrived'. While sitting at the piano, I thought of Nina; when we recorded the song, I thought of Nina. I thought of her intensity, her insistence, her gravitas, her depth, her sheer individuality. And when the trumpet player – who didn't know I had worked with Nina – heard the opening chords to He's My Man, he called out, "Aha, Val's been listening to Nina!". High praise indeed, we should all be listening to Nina.
by Valerie Ghent
Interview questions and French translation by Nicolas Teurnier
Included here by permission from Soul Bag.
Visit Soul Bag online: soulbag.fr
Thanks to Nicolas Teurnier for proposing this interview and for asking such intriguing questions – questions that allowed me to return to and revisit this wondrous experience.
Special thanks to Mauro Boscarol for archiving my interview and this article in the Nina Simone database.