Jacques Demêtre is one of France's noted historians of American blues and gospel music.
For decades he wrote a column for the French magazine, Jazz Hot. In addition, Jacques wrote liner notes for blues and gospel releases, photographed blues musicians and wrote for the French soul/blues magazine Soul Bag, the Belgian-based Rhythm & Blues Panorama and the UK's Blues Unlimited. And that's not counting his many other talents.
Until 2010, I had no idea that Jacques and I were cousins!
In 1959, pursuing his deep love for American Blues music, Jacques came to the US, visiting Chicago, Detroit and New York City. He an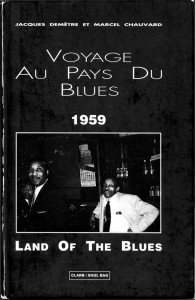 d travel companion Marcel Chauvard hung out with blues musicians such as Howlin' Wolf, Muddy Waters, John Lee Hooker, Tampa Red and dozens of other blues artists. They stayed with Jack Dupree and Sonny Price in NYC. Jacques' writings about this visit were first published in a series of six articles in Jazz Hot, and then 35 years later in the bi-lingual (French-English) book Voyage au Pays du Blues/Land of the Blues (Clarb/Soul Bag, 1994). The book is now out of print, yet I keep hoping it will be reissued! All the photos in it were taken by Jacques (or Marcel) and the musicians featured in it are a who's who of the blues.
I met Jacques for the first time in 2010, in the midst of what seemed to be a series of magical events. You see, for decades I had been looking for long-lost family on my mother's side. After my mother died in 2006, I sadly let go of the search, believing all possibilities were now closed. As with many surprises in life, just as I let go of my last hopes, one of my long-lost cousins found me….and there it all began.
My cousin relayed to me I should speak with the historian of our family, Jacques Demêtre, as soon as possible. I called Jacques the same day – he clearly remembered my grandmother and was delighted to talk. As we spoke, I was enthralled. A dream I'd hoped for – and then let go of during one of the saddest points of my life – was finally coming true. Just hearing Jacques' voice was remarkable, he has a resonant, powerful and deep voice. We spoke for the most part in French, switching to English when my vocabulary and conjugations faltered (which was often). Yet most incredible, and to this day still amazes me, was learning how much we shared and had in common – even though until that day we hadn't known of one another's existence!
I was astonished to learn of Jacques' vast knowledge and immediate recall of blues and gospel musicians, singers, albums, singles and collections. In fact, as I learned later on, his vintage 78 records (which he began collecting as imports during WWII) have been turned into a dozen multi-CD blues and gospel compilations in France, with a new compilation due out in spring 2014. Jacques was was equally astonished to learn I am a musician, composer and singer, have played with Ashford & Simpson for decades and that much of my own music is deeply rooted in the blues.
As we spoke in that initial phone call, the surprises kept coming. Jacques mentioned his own father was composer Ivan Wyschnegradsky and that Jacques knew of my father for his electronic and classical music compositions. So now we had experimental composer fathers in common, too. In addition there was a mysterious painting, which it turned out, Jacques held the key to understanding after 40 years (that's another story).
To top it all off, that very spring (2010) Nick Ashford was planning to launch a night called "Nuttin but the Blues" at Ashford & Simpson's Sugar Bar on Tuesdays, news which made Jacques exclaim with joy, as a sign that the blues was still alive in New York City. The stories and questions went on and on. "I must come to Paris to meet you!" I said with a tremendous smile. Jacques replied, "You should come soon, because I am 86 years old."
I bought my air ticket that week for a trip to Paris with a single purpose: to meet Jacques and two more cousins, and at long last to rejoin members of my lost-lost family.
There is so much to say about Jacques and his incredible life, history, family, writings and interviews…. to be continued!