We're in La Provence!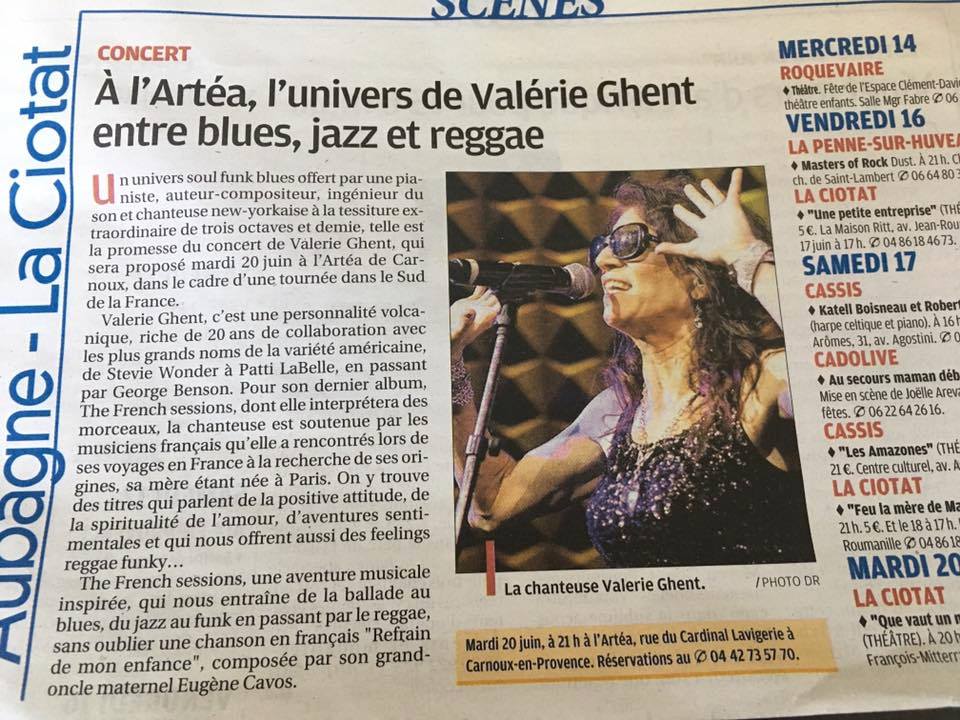 Un univers soul funk blues offert par pianiste, auteur-compositeur, ingénieur du son et chanteuse new-yorkaise à la tessiture extraordinaire et trois octaves et demis, telle est la promesse du concert du Valerie Ghent, qui sera proposé Mardi 20 Juin à l'Artea de Carnoux, dans le cadre d'une tournée dans le Sud de la France.

Valerie Ghent, c'est une personnalité volcanique, riche de 20 ans de collaboration avec les plus grands noms de la varieté américaine, de Stevie Wonder à Patti LaBelle, en passant par George Benson. Pour son dernier album, The French Sessions, dont elle interprétera des morceaux, la chanteuse est soutenue par les musiciens français qu'elle a recontré lors de ses voyages en France à la recherche de ses origines, sa mère étant née à Paris. On y trouve des titres qui parlent de la positive attitude, de la spiritualité de l'amour, d'aventures sentimantales et qui nous offrent aussi des feelings reggae funky….
The French Sessions, une aventure musicale inspirée, qui nous entraine de la ballade au blues, du jazz au funk en passant par reggae, sans oublier une chansons en français "Refrain de mon enfance", composée par son grand-oncle maternel, Eugène Cavos.
Mardi 20 Jui à 21 h à L'Artea, rue du Cardinal Lavigerie à Carnoux en Provence. Reservations 04 42 73 57 70