The big surprise……. Bonjour from the South of France! Am thrilled to announce TWO LIVE CONCERTS here – on July 1 & 2!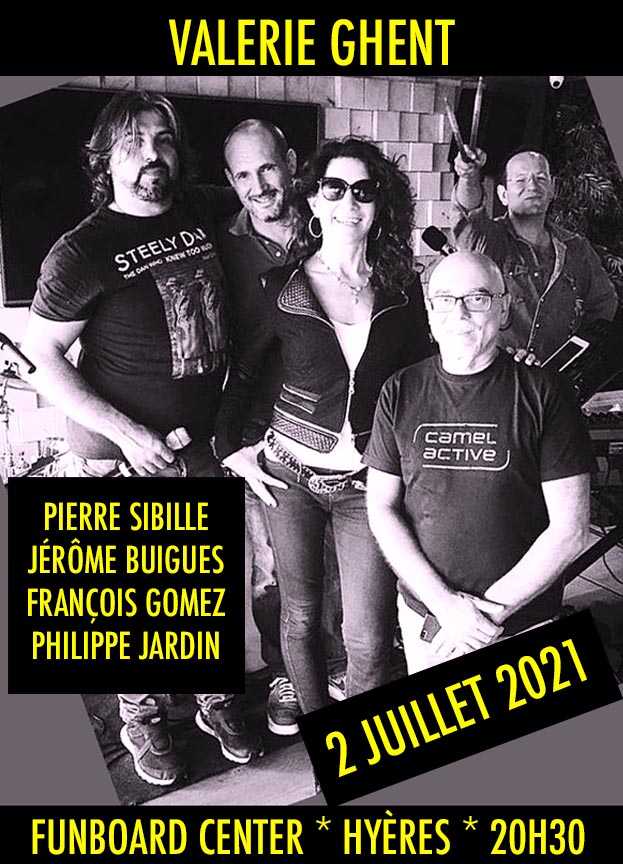 Valerie Ghent live in South of France
July 1 – Music for the Soul from Hyères, France
livestream duo w/ Jerome Buigues
July 2 – Funboard Center Hyères, France
first full band show in 17 months!!!
July 1 – RARE DUO w/ Jerome Buigues – I am honored to be invited to sing again for "Music for the Soul" streaming live into NYC public hospitals for doctors, nurses & patients. You might remember I played Music for the Soul last year during lockdown, when I could only play a solo show. This year will be a rare duo concert with Jerome Buigues on guitar/vocals – and we hope a surprise guest! We're streaming live from France on facebook.com/valerieghentmusic – tune in & join us live 12pm-1pm EST / 18h France
July 2 – FULL BAND SHOW!! we are playing in beautiful Hyères at the fabulous Funboard Center, our first live concert since Paris in Feburary 2020. Can't wait to play Funboard again – w/ the Mediterranean right behind us – we always have a blast! Reservations required: SMS 06 07 29 81 56