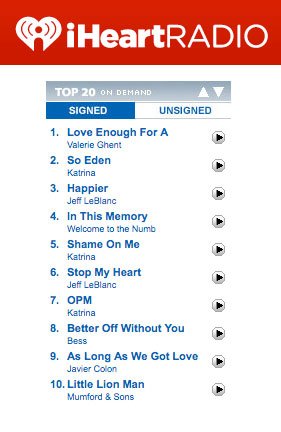 YES! We made it to NUMBER ONE!
"Love Enough for a Lifetime" hit #1 today!
CONGRATULATIONS all 'round – it takes a lot of wonderful people to make something like this happen – so let's open the bubbly & CELEBRATE!!!
That we're at #1 is truly thanks to YOU! Thank you for listening!! Each and every "Listen" helped us climb, stay at #2 all week and finally…reach #1 this weekend!
It's also thanks to the wonderful musicians who played so beautifully on this song with me: Tinker Barfield (bass), Kevin Johnson (drums), Robin Macatangay (acoustic guitar), Bashiri Johnson (percussion), Alfa Anderson (backing vocals) & Keith Fluitt (backing vocals).
And tremendous thanks to Ron Allaire for world-class engineering, a phenomenal mix by Michael Barbiero & stellar mastering by Greg Calbi. What a team! We got here together!!
Listen to Love Enough for a Lifetime on nationwide radio:
listen from anywhere in the world! – just click LISTEN NOW:

New York, NY:
WHTZ-FM 100.3 – LISTEN NOW
WKTU-FM 103.5 – LISTEN NOW
Boston, MA:
WXKS-FM 107.9 – LISTEN NOW
Jacksonville, FL:
WNWW-FM 97.9 – LISTEN NOW
Los Angeles, CA
KIIS-FM 107.2 – LISTEN NOW
Nashville, TN:
WRVW-FM 107.5 – LISTEN NOW
San Francisco, CA:
KISQ-FM 98.1 – LISTEN NOW