Examiner.com: Songwriter's Beat Festival – July 20, 2011
by Jim Bessman
Songwriter's Beat's seventh annual Songwriter's Beat Festival will take place at Christopher Street Coffee House, starting tomorrow and continuing through Saturday. On board are 17 top performing songwriters including acclaimed urban, folk and jazz artist KJ Denhert; jazz duo IGBO (Joe Bowie and Adam Rudolph), folk music great Tom Ghent, rocker Patti Rothberg and versatile vocalist Dean Bowman–along with two winners of the 2010 Songwriter's Beat Song Contest.
Founded in 2000 by singer-songwriter Valerie Ghent, the Songwriter's Beat offers performing songwriters a chance to perform new material in a supportive and encouraging atmosphere.
"Artists love performing at Songwriter's Beat," says Ghent, "and there's nothing quite like our summer festival, where we bring together so many top performing songwriters."
This year's festival lineup, she adds, "is simply outstanding. Encouraging new songs and arrangements from such a wide variety of talent, in so many genres of music–jazz, folk, world, rock, a cappella, blues, pop–it is exactly the sort of one-of-a-kind concert experience Songwriter's Beat is all about."
The Songwriter's Beat has presented over 325 songwriters, over 50 benefit concerts, six annual festivals and dozens of songwriting workshops while fostering the creation of hundreds of new songs. It's located at St. John's Lutheran Church at 81 Christopher Street, and is co-sponsored by St. John's and the Downtown Songwriters' Circle.
Each July Songwriter's Beat produces an annual festival of songwriters which raises funds for Feel the Music!, a nonprofit music/arts education program founded by Ghent for children and families impacted by trauma, loss and illness. Herself a singer-songwriter who is also the longtime keyboardist/backup singer and recording engineer for Ashford & Simpson, Ghent will perform at the festival Saturday night with Tom Ghent–who is not related outside of music.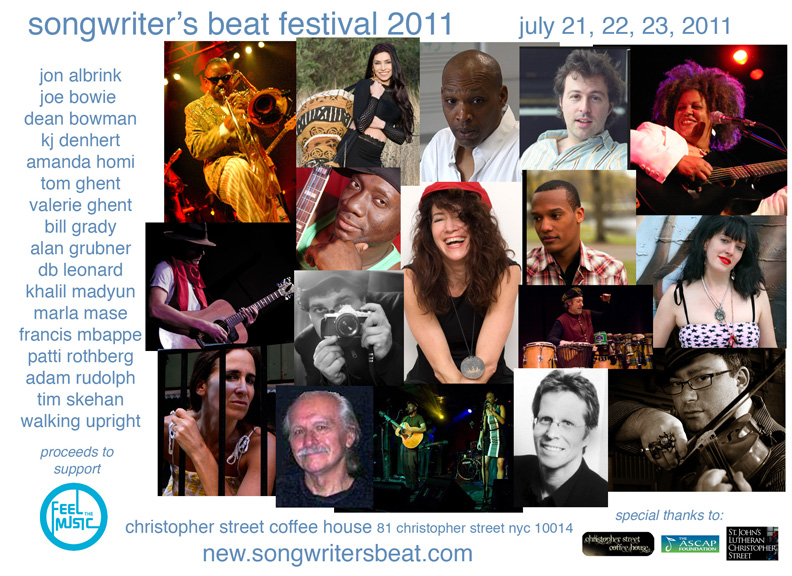 Continue reading on Examiner.com Seventh annual Songwriter's Beat Festival starts tomorrow – New York Local Music | Examiner.com