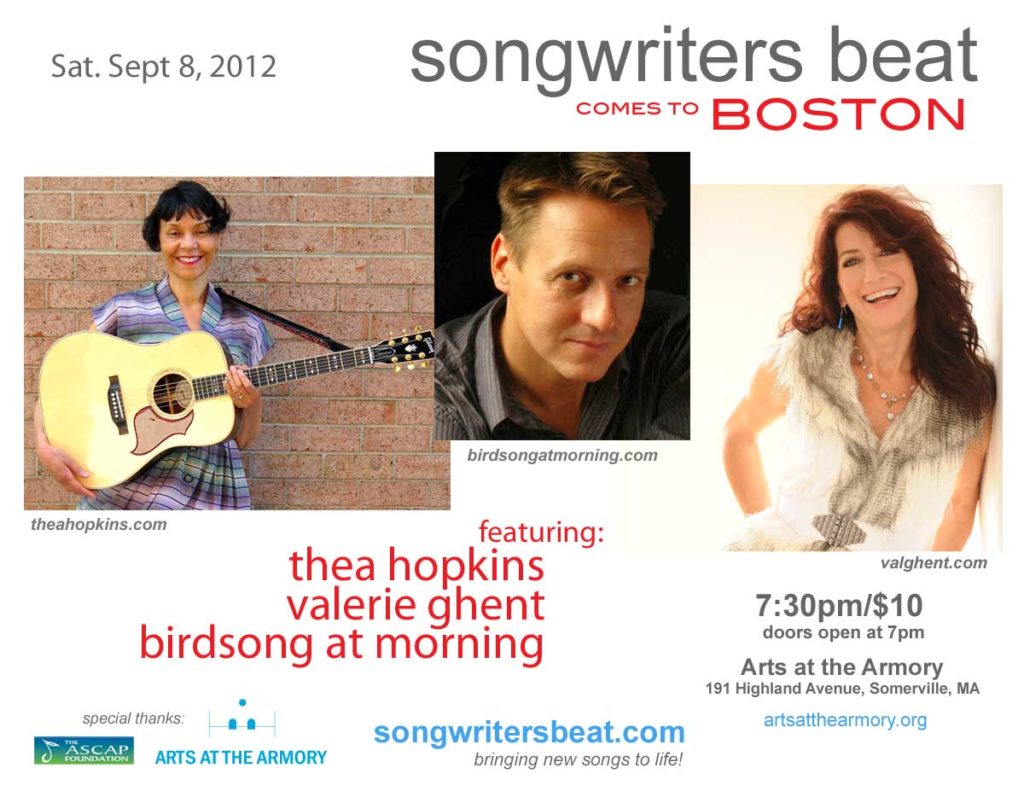 Am thrilled to be performing at Songwriter's Beat first concert in Boston! On Saturday, September 8th, I'll share the stage with stellar songwriters Thea Hopkins and Birdsong at Morning at a lovely venue, Arts at the Armory.
And that's not all – I'll be performing with Valerie Simpson at Boston's famed jazz club, Scullers, the night before!
If you're in the Boston area, make sure to come! If you're not in Boston, please join us! Come for the weekend – September 7th at Sculler's and September 8th at Arts at the Armory – and catch both shows!
about the artists:
For 12 years, Valerie Ghent has produced "Songwriter's Beat" in NYC, presenting 335+ songwriters over the past twelve years. And that's in addition to recording five CDs of her own and traveling the world as keyboardist/vocalist & recording engineer for the legendary Ashford & Simpson. Weaving blues, soul, R+B, jazz and pop, Ghent is known for her smoky voice and 3 and 1/2 octave range. www.valghent.com
In May, Thea Hopkins won first place in American Songwriter Magazine's May/June lyric contest. Best known for her song, "Jesus Is On The Wire", recorded by Peter, Paul & Mary in 2004. Thea is digging into a rocking Americana vein with her upcoming album, "Lilac Sky." www.theahopkins.com
The consummately artful Birdsong at Morning merge classical aesthetic with the grace of Appalachian folk and pop hooks. One of Boston's most ambitious bands, last year they released a 4-CD box set, "Annals of My Glass House" and a live DVD, "Sanctuary." www.birdsongatmorning.com
WHAT: Songwriter's Beat comes to BOSTON
WHO:Valerie Ghent, Thea Hopkins, Birdsong at Morning
WHERE: Arts at the Armory, 191 Highland Avenue, Somerville, MA
WHEN: Saturday, Sept 8th, 2012
TIME: Doors open 7:00pm, Music: 7:30 – 9:30
ADMISSION: $10.00
See you THERE!