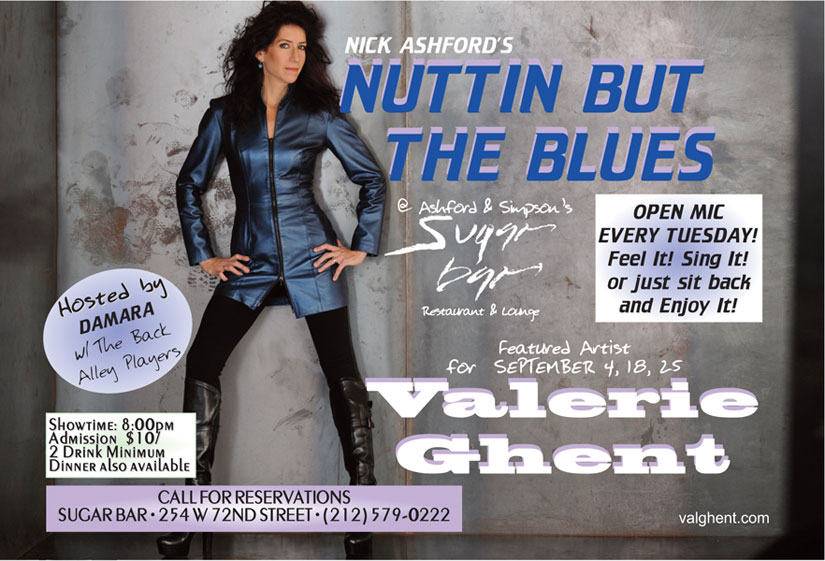 Nick Ashford started "Nuttin But The Blues" in May, 2010, right here in New York City at Sugar Bar. Ever since he started the night I've simply loved going, whenever I can make it, to see phenomenal singers like Ebony Jo-Ann, Pat Tandy, Jermaine Paul, Aziza Miller and so many more. It was Nick's dream to have an evening dedicated to real blues music, where singers and musicians could come together to play, literally, NUTTIN BUT THE BLUES, and he brought that dream to reality at Sugar Bar every Tuesday night.
So it's truly thanks to Nick that I will be the Featured Artist at Nick Ashford's Nuttin But the Blues in September, with shows on September 4, 18 and 25.
FOR RESERVATIONS: 212.579.0222 – make sure to ask for a table up front!
In preparation for my Blues Night 'debut', I called upon my dear cousin in Paris, Dimitri Vicheney – aka Jacques Demêtre – who just happens to be one of France's noted blues historians. Starting in 2010 Dimitri has given us dozens of Blues CDs (many made from his extensive, pristine collection of original 78 records) to play at Sugar Bar on Blues night. Dimitri has been happily researching old blues songs for me, so get ready – anything and everything is possible! I've got a few surprises in the works, and am just now finishing up a brand-new, fun blues tune.
Back in the summer of 2010 I debuted a then relatively new song, "Day to Day Dream" at Nuttin' But the Blues. I remember taking a deep breath and saying "Nick, I've got a blues song that might just work", and he sure enough called me to the stage. Little did I know then that after that, every time I showed up at Blues night – no matter how tired I was – Nick would call me to the stage to sing!
And who knew then – 2 years ago – that the very same song, Day to Day Dream, would become the title track of my latest CD? All thanks to Nick, and Valerie, and their ongoing support in providing musicians and songwriters a place to perform and grow.
Join us Sept 4th at Sugar Bar for my debut at "Nuttin But The Blues"!
Hosted by Damara Lynn Greene and featuring The Back Alley Players, with a killer blues open mic every Tuesday. JOIN US & sit in, sing or play a tune – it just has to be NUTTIN BUT THE BLUES!