Internationally acclaimed singer/songwriter Valerie Ghent joins forces with Grammy nominated Cellogram comprised of cellist Dave Eggar and drummer Chuck Palmer.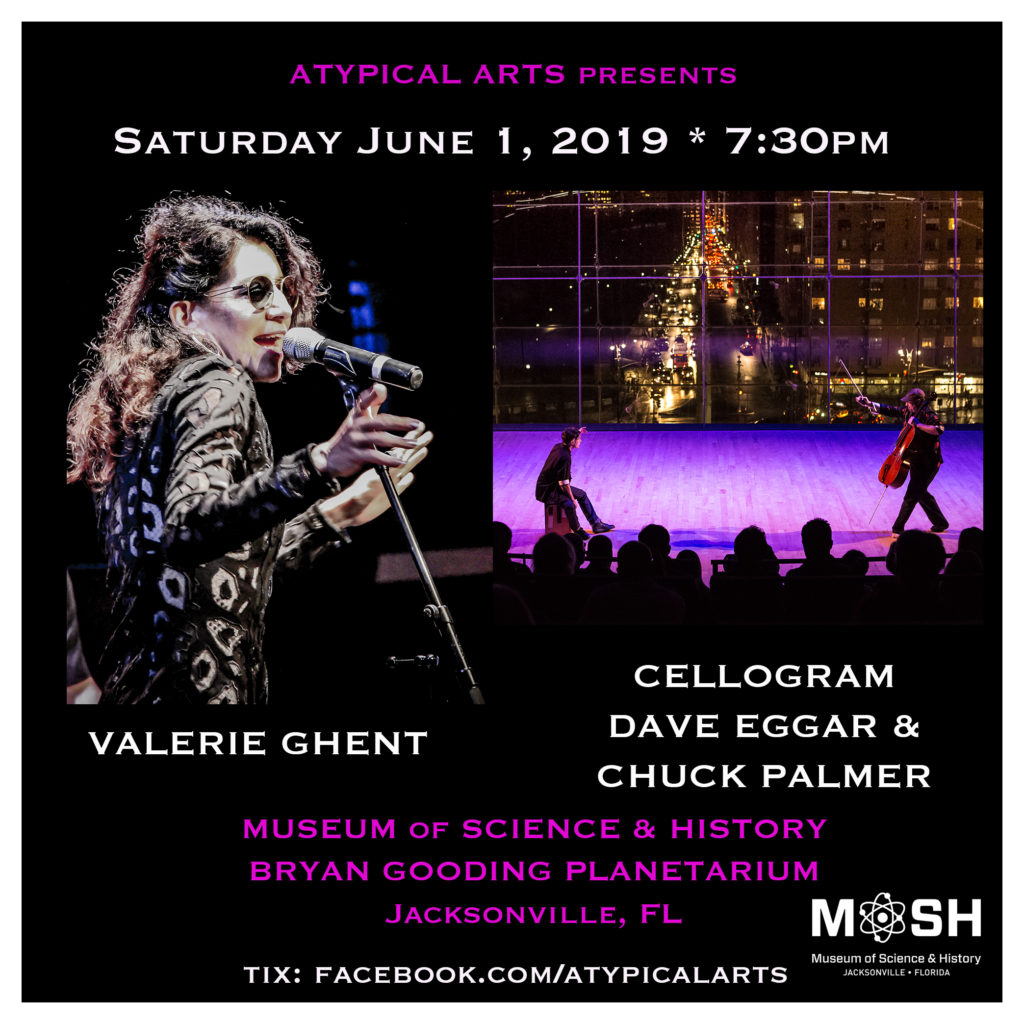 What happens when you combine Paleo Beats and Spectral Strings with larger than life storytelling? You'll find out on this exciting multimedia musical journey through a fantastical time!
MUSIC FOR DINOSAURS AND OTHER FANTASTIC BEASTS will take you on an epic adventure in the Bryan-Gooding Planetarium!
Get lost in a timeless romp through the Brontosaurus Blues, T-Rex Tangos, Jurassic Grooves and other musical themes from favorite creature feature films. You'll also get a chance to explore MOSH's upcoming traveling exhibition, Expedition: Dinosaur!
Doors/cash bar open at 6:30 p.m. Concert begins at 7:30 p.m.
All ages welcome!

About the Musicians:
CELLOGRAM
Cellogram is the polystylistic brainchild of Grammy nominated composing/producing team, cellist Dave Eggar and drummer/programmer Chuck Palmer. Their unique blend of classical music, electronica, and world music has led to original work and collaborative arrangements with artists including Frank Ocean ("Channel Orange"), Amy Lee from Evanescence, Train, Norah Jones, Talib Kweli, Breaking Benjamin, Brett Eldredge, Five For Fighting, Dr. Ralph Stanley and Zayn Malik. Cellogram is fresh off of a 40 show opening slot co-bill tour with Lindsey Sterling and Evanescence, and their recent innovative symphonic and choral collaboration with Mick Jones and the iconic 80's rock band Foreigner debuted at no. 1 on the US Classical Billboard charts.
VALERIE GHENT
Powerhouse recording artist Valerie Ghent wows audiences with her emotive, evocative voice, piano chops to match, and "soul-stirring, uplifting songs full of vitality and joy." A native New Yorker with a bluesy, funky piano style and a stunning 3 1/2 octave range, it's no surprise she has toured with music legends Ashford & Simpson and Debbie Harry and performed with artists as diverse as Dr. Maya Angelou, Billy Preston, Iggy Pop and Defunkt. An outstanding live performer, Valerie weaves together blues, soul, R+B, jazz and pop, treating listeners to soulful, romantic, highly melodic music rendered with passion, undeniable skill and a mighty heart.
Find out more at valghent.com