Am delighted to return to Jazz Club Chez Papa this month!  This magical, atmospheric venue – located in Saint Germain des Prés, the 6th arrondissement of Paris and the very heart of the Latin Quarter – preserves the feel of intimate jazz clubs as they existed in Paris decades ago, with delicious cuisine and smoking music every night.
On Friday, November 21st I'll be performing with outstanding musicians Pierre Sibille (piano, vocals, harmonica) and Jerome Buigues (guitar, bass, vocals), bringing blues, soul, funk and grooves alive in the City of Light. Many thanks to BluesUP and Chez Papa!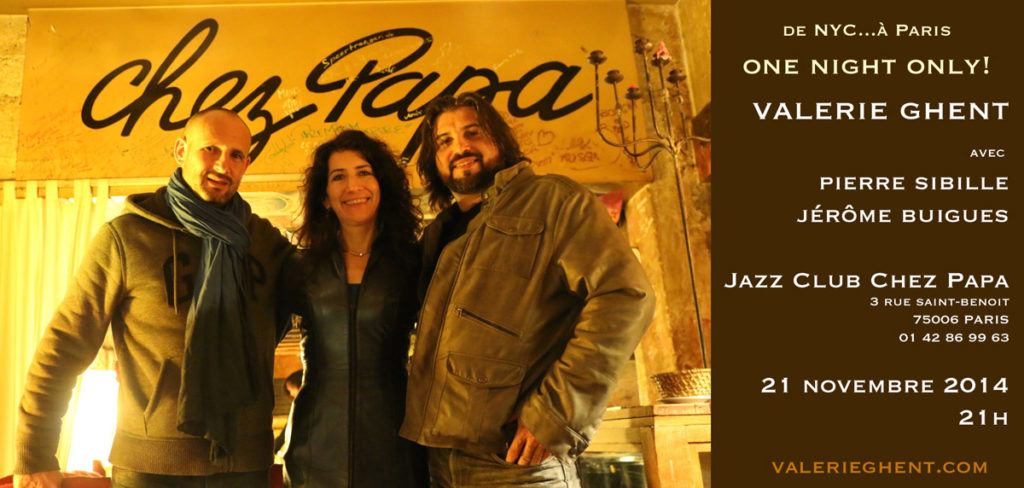 WHAT/WHO: Valerie Ghent Trio – live in Paris with Pierre Sibille & Jerome Buigues
WHEN: Friday, November 21, 2014, 9pm
WHERE: Jazz Club Chez Papa, 3 Rue Saint-Benoît, 75006 Paris
Reservations recommended: 01 42 86 99 63
We start at 9pm. See you there!