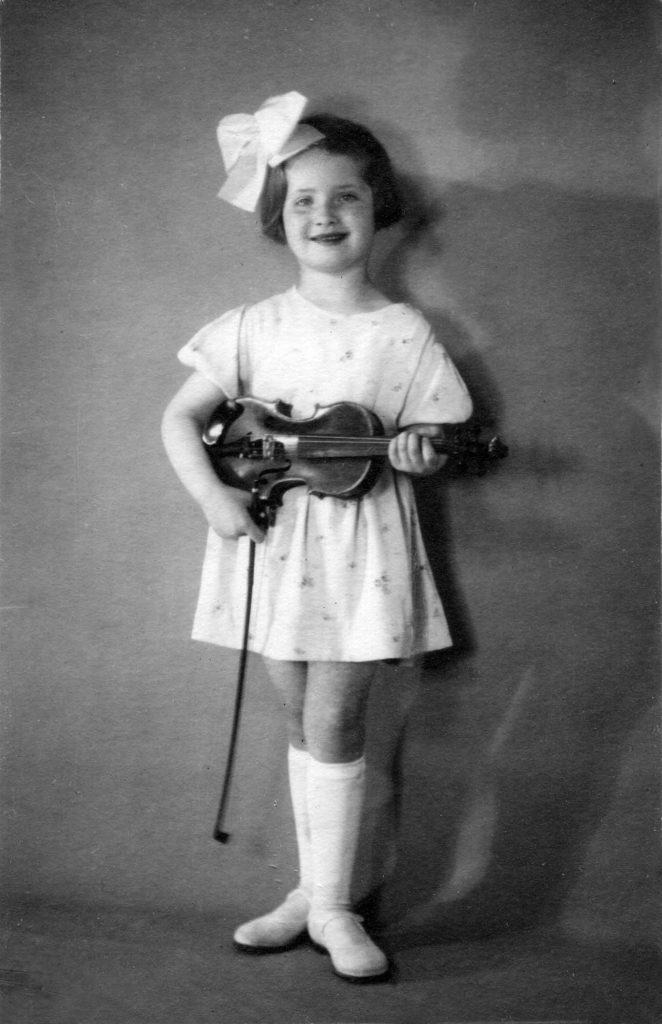 My mother spent many years of her life composing and arranging The Angel, yet her musical career goes back to her childhood in Paris and growing up steeped in the musical world of New York City.
Nathalie "Natasha" Gudkov was born in Paris, France in 1933 to Russian parents, in a family background with multiple musical and creative influences: Her mother, Marie Cavos, was born in St. Petersburg to an artistic, affluent Russian family whose roots also descended from 18th century Italian composer, Catterino Cavos, director of the Imperial Opera in St. Petersburg and composer of many operas and ballets.
When the Russian Revolution tore the Cavos family apart, Marie and her two sisters fled St Petersburg, leaving everything behind and eventually made their way to Paris. There Marie reconnected with mining engineer (later mechanical engineer) Valentin Gudkov, who had worked with Marie's architect father, Eugene Cavos. A few years later, Nathalie Cavos Gudkov was born.
Early Years in Paris & Emigration to New York
Nathalie began early violin studies at the age of four with Ivan Galamian at the Russian Conservatory in Paris. Her uncle, Eugene Cavos, played the violin and accordion, and was a composer of French chansons, including Refrain de mon enfance. Having left everything behind in Russia, the Cavos family struggled to make ends meet. Marie became a nurse (she had been a hospital nurse in St. Petersburg for wounded Japanese soldiers during World War I), yet music remained an important part of the fabric of the family's life. Marie pushed her daughter to practice daily, and gave her strict lessons in ear training. She envisioned her daughter would one day be a concert violinist.
Following the outbreak of World War II, 1941 Nathalie and her parents left Paris for a harrowing journey, first through occupied France to Lisbon, from where they emigrated to New York, sailing across the Atlantic and narrowly avoiding German U-Boats. As her father Valentin was already a naturalized American citizen, the family did not need to go through Ellis Island. Despite speaking only Russian and French, Nathalie adapted to her new life in America, learning English and starting public school. She continued her violin studies at the Juilliard Preparatory School with Dorothy De Lay and Galamian, who had also recently emigrated to America.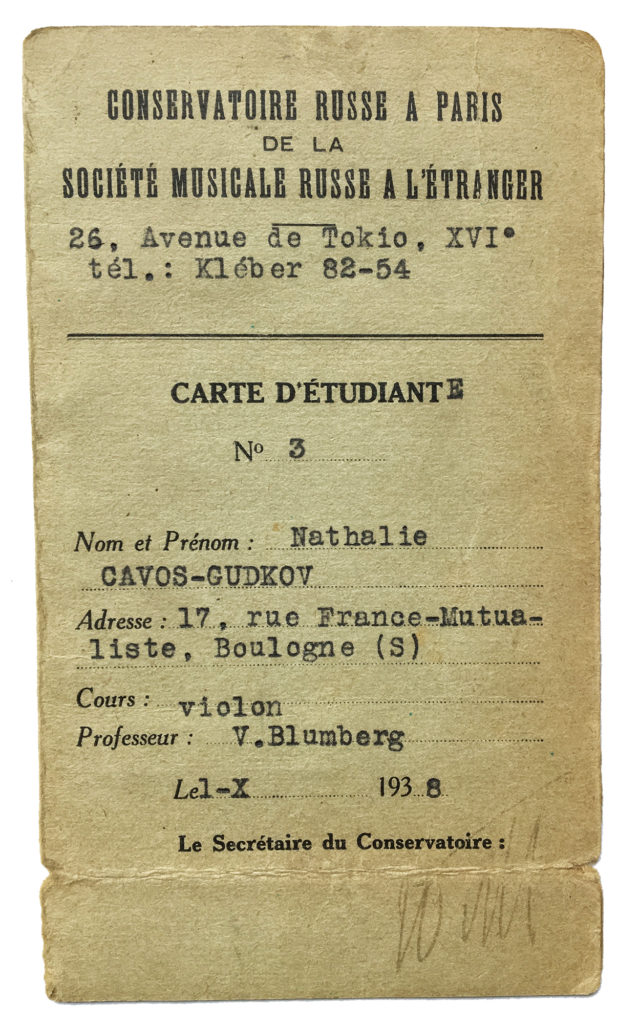 Drawn to the richness of the viola's deeper sonorities, Natasha* began studying viola with William Kroll and Hans Lenz. Her musical abilities quickly recognized, Natasha was accepted into the New York's prestigious High School of Music and Art as a violinist, and later went on to attend Sarah Lawrence College as a scholarship student. At Sarah Lawrence her musical abilities flourished, she began composing, performing in concerts, and her love of literature, learning and translation, planted the initial seed of setting Lermontov's poem, The Angel, to music.
Professional Violist
After graduating from Sarah Lawrence in 1955, Natasha began working extensively as a violist in the New York musical world. She played with American Ballet Theatre when Barishnikov danced, with American Symphony under Leopold Stokowski, New Jersey Symphony, Queens Symphony and New York Opera Orchestra.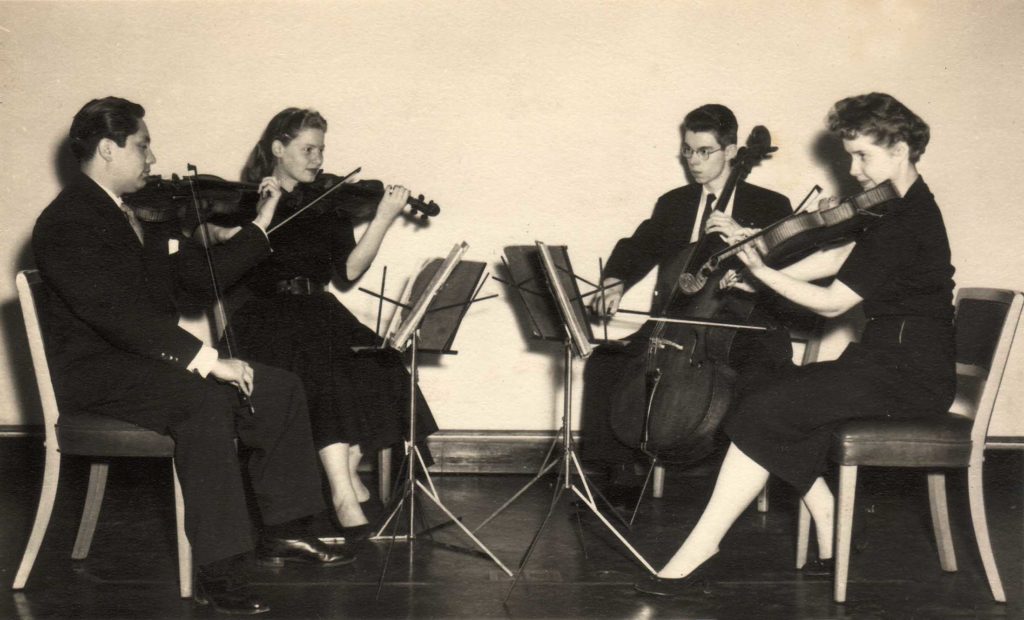 String Quartet Concert at Memorial Hospital
L-R: Manuel Enrique, Dorothy Pixley, violins, Ray Davis, cello, Natasha Gudkov, viola
After marrying composer Emmanuel Ghent in 1962, Natasha and their children moved to SoHo in the early days of the neighborhood's artistic history, living in the same Prince Street building as renowned jazz saxophonist Ornette Coleman and where the student revolutionary group SDS had a printing press.
Together with Gerard Schwartz, music director of Seattle Symphony, Natasha founded the Soho Ensemble, a chamber group dedicated to the performance of contemporary music in art galleries throughout downtown New York in the 1970s.
A Prolific Composer
Natasha was a prolific composer, writing many pieces of music for young ensembles including The Eternal Song in 1955 for students at Sarah Lawrence College, The Gold Hat in 1963 for the Joan of Arc Junior High School Orchestra, and many other works with a distinct pedagogical bent such as Ode to Pythagoras, A la Schradiek, and Homage a Katchaturian. She developed a life-long love of chamber music during summers spent as a string quartet coach at Meadowmount, in Westport, New York.
Collaborating with the Penny Jones Puppet Theatre Company, Natasha wrote enchanting music for The Lonely Loch Ness Monster, a marvelous production for children performed at BAM with the Brooklyn Philharmonic. In 1980, her compilation of original duets for two violins, Who's On First? was published by General Music Publishing.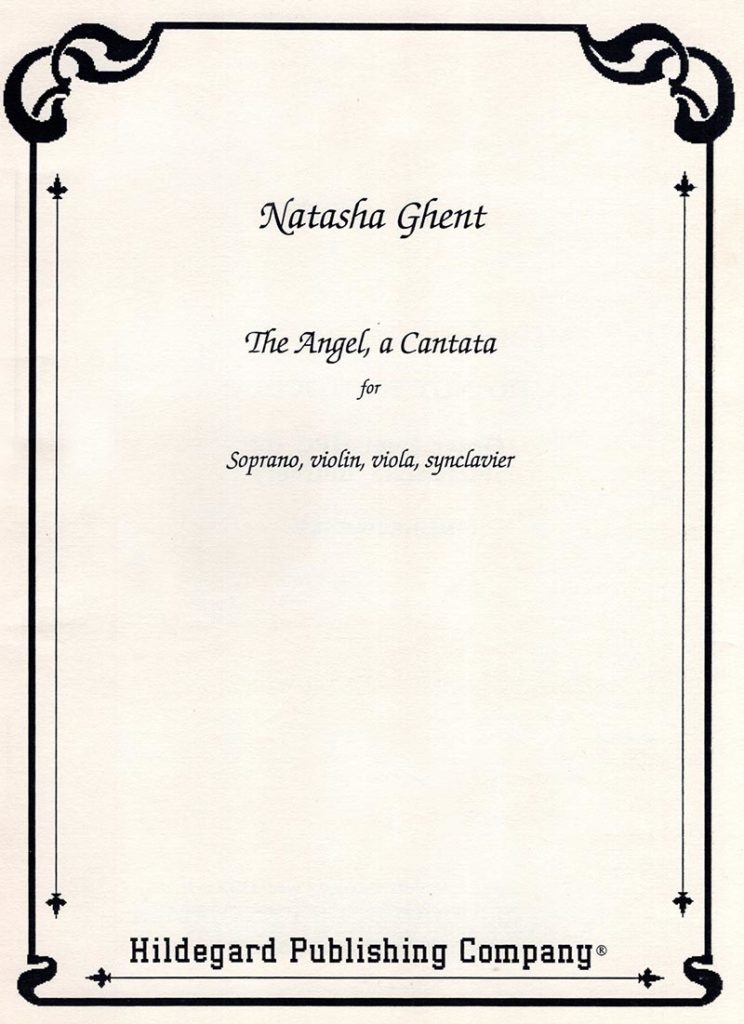 Natasha continued to work on and revise The Angel. In the summer of 1988 my mother and I went into the studio together to record. On the strength of our recording, Hildegard Publishing, a company devoted to works of women composers, published The Angel in 1995. The day the official sheet music arrived in the mail she was overjoyed!
A Gifted Teacher
After reti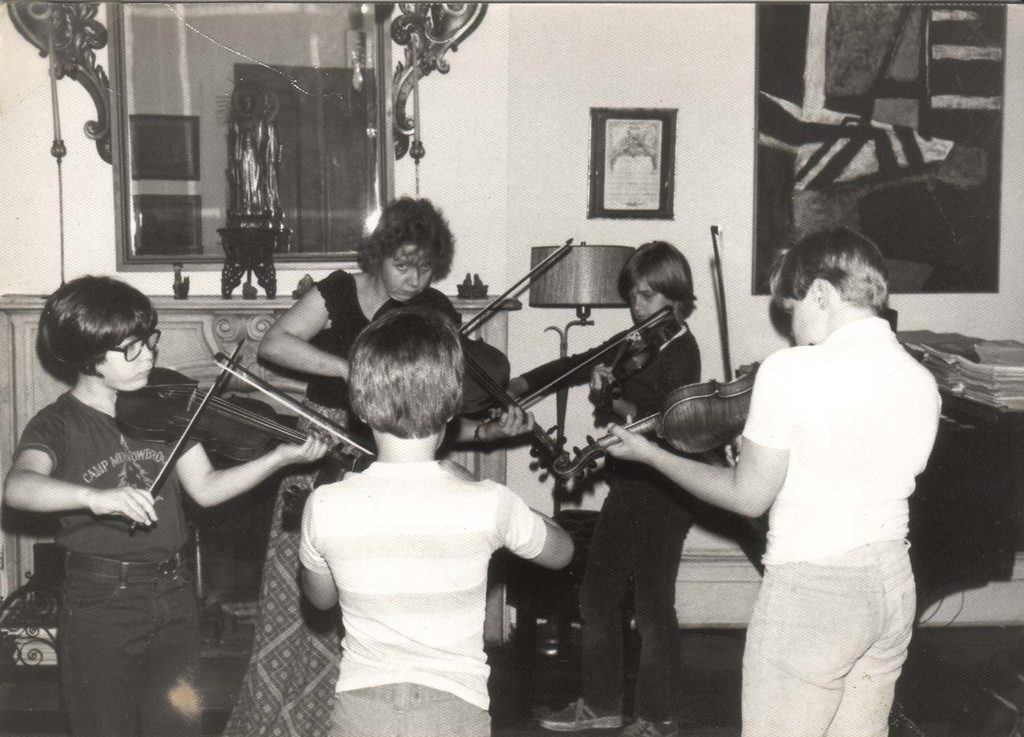 ring from her career as professional violist, Natasha taught music in the New York City Public School system. When funding for music programs was cut, she continued to weave music into the curriculum through her original songs, Music through History, which introduced major figures such as Abraham Lincoln, Madame Curie and Sojourner Truth in imaginative and easy to sing songs that students loved. At the end of each school year, she organized student concerts, determined to provide music education – regardless of school budget cuts. Natasha was a beloved and creative teacher, inspiring hundreds of students in violin, viola, and piano.
During this period, Natasha also taught adult students privately, including the father of computer music, Max Mathews, a close family friend. She welcomed newly arrived Russian emigré musicians to our home and helped them find playing work. She taught string quartets, organized musical recitals and gatherings at her home, which to this day are remembered by her students. She came to all my earliest concerts, even showing up at gritty rock clubs like CBGBs to cheer us on. Some of my fondest memories in the later part of my mother's life are playing Bach chorales together, four hands on the piano, sitting next to one another on the piano bench, marveling at the beauty and intricacies of Bach's 4-part harmonies.
My mother would be 88 years young this year. I can barely fathom that it's now fifteen years after her passing, and thirty-three years after we recorded The Angel. What a pleasure and joy it is, truly an honor, to finally release the piece of music that was so close to my mother's heart.
* A few words about names: My mother used Nathalie, Natasha and Natalie variously and continuously throughout her life. So in this article I begin with Nathalie, and switch to Natasha, as she did.
Listen to The Angel HERE